JEANNE R. BURTON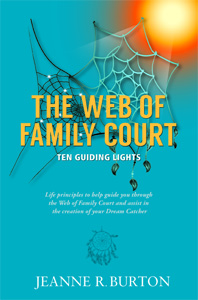 PURCHASE BOOK
The Web of Family Court: Ten Guiding Lights
Jeanne R. Burton
Life Principles to help guide you through the Web of Family Court and assist in the creation of your Dream Catcher.
As an attorney practicing in the Suffolk County Family Court, Jeanne Burton has seen the justice system at work and has witnessed how it impacts the lives of those involved, especially the children. Families have many needs, some of which require the advice of legal counsel. Examples of the instances in which the Law Offices of Jeanne R. Burton can assist are:
• if you are a respondent parent facing child neglect or child abuse allegations,
• if your child is being charged as a Juvenile Delinquent,
• if the County is attempting to terminate your parental rights,
• if you are seeking or are the subject of an order of protection,
• if you are a non-respondent parent, an intervening relative, a grandparent or a foster parent seeking custody, or
• if you are looking to grow through the process of adoption.
Family issues are often very complicated. No two situations are identical. For this reason, it is crucial to consult with an attorney who is knowledgeable in the field and truly desires the best for you and your family. Jeanne is that passionate advocate. There are times when the Child Protective Services [CPS] investigation is flawed and the allegations turn out to be untrue. After extensively reviewing the facts in their proper context, most if not all of those cases are dismissed pre-trial, post-trial or after an appeal. It is very important to consult with Jeanne as soon as you know that you are the subject of a CPS or a police investigation or have reason to believe that either might be forthcoming.
Family court is viewed by many as a place of disharmony, strife and misery. Jeanne is an experienced and compassionate attorney who will represent you and your family's interests and help guide you through the system. Whether you feel you have been wrongfully charged or not, it is crucial to meet with a qualified attorney to determine if your case needs to be tried or whether through effective negotiations it can be settled favorably. Family court is much like a spider's web in that when you become entangled, it may seem impossible to break free. Once caught inside that web, you may feel that the things that happen in family court are unjust or that you are not being treated fairly for one reason or another. It is not necessarily that the courts are right -- its about: this is where you are and in order for you to set yourself free, you need to be present and awake to what is going on around you. Jeanne can help you do what it takes to make your way out of it.
The term "family court" is itself a dichotomy, a contrast. Ideally, "family" is nurturing and safe, unconditionally loving, and judgment free. "Court" is THE place of judgment, deciding your family's fate to a large extent. You may rail against the perceived injustice of being before this tribunal, yet please remember - your presence there is the result of choices you have made. Once present, it is necessary to have an experienced and skilled attorney representing you and your family's interests.
The "scales of justice" are different in family court than they are in criminal court. In family court, to establish a petition of neglect or abuse against a parent respondent, the county has to prove their case by a preponderance of the evidence. In criminal court the burden is much higher: beyond a reasonable doubt. What's the difference? Picture an old fashioned scale which when balanced, has both sides evenly situated. When one side of the scale is even a tad heavier, the scale will tilt to that side. It's that little bit more that the county must show to have its child neglect or child abuse petition established against the respondent. [Petitions alleging severe abuse require a heavier burden: clear and convincing evidence.]Also different is the goal of Suffolk County Family Court and Child Protective Services [CPS] intervention. In criminal court, it's about crime and punishment. In family court, theoretically, it's about what is in the best interests of the children, and reuniting the family once a dispositional order has been successfully complied with.
Jeanne has extensive trial experience. She was an Assistant District Attorney in Nassau County trying misdemeanor and felony criminal cases. As a family law attorney practicing in the Suffolk County Family Court since 2002, she has handled hundreds of these types of cases and tried numerous petitions involving child neglect, child abuse, termination of parental rights, family offenses involving orders of protection, custody, visitation and adoption matters. Jeanne takes the time to thoroughly meet with and prepare her clients and has tried a great many of these matters successfully. Call Jeanne to arrange for a consultation so that you know what to expect and how to handle your personal situation.